Zedrovision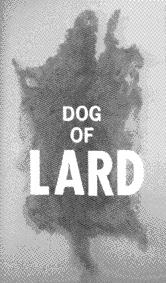 Unsound Magazine Vol. 2, No. 2 (1985; San Francisco, CA, USA)
Moody unrelenting presentation of conceptual noise and random sounds. The cassette sounds like it was recorded live. Buzzy electronics mixed in with pounding percussion and scratchy feedback. I think (to put it one way) the fat of LARD could be trimmed back a bit. There is a lot of material on this tape, but there is little attempt to focus each musical piece on dynamics, or concepts, or conciseness. It all becomes tedious after a few listenings.

- Thom Iwatsubo


Force Mental Magazine No. 11 (1985; Antwerp, Belgium)

DOG OF LARD is a C-45 cassette by LARD. The sound is based on inert fragmented rhythms and various kinds of feedback. Although electronic, the sound seems very acoustic, this might appear through the recording-technique. It looks like the sounds were recorded in huge empty concrete spaces, but very clear, very synthetic. The strange effect of the various sounds and the recording of it, make this a very intriguing and worthwile work.